Businessman Thomas Smyth to hand over 19 houses to Soca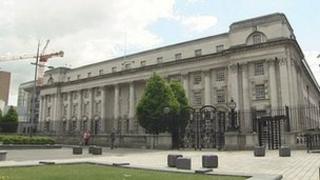 A County Antrim businessman who fraudulently bought 19 houses has been ordered to hand the properties over to the Serious Organised Crime Agency.
The Recovery Order was granted on Monday in Belfast High Court against 38-year-old Thomas William Smyth.
Mr Justice Treacy deemed his property portfolio to be the proceeds of crime.
The recovered assets include his family home at Ballynure and 18 other buy-to-let houses in County Antrim and in Liverpool.
In its civil recovery application, Soca submitted that Mr Smyth had obtained his property portfolio through mortgage fraud, tax evasion and money laundering.
Soca's investigation identified that between 2000 and 2007, Mr Smyth made numerous fraudulent self certification mortgage applications to a variety of financial institutions in order to obtain almost £2m in loans to buy property.
Soca's Andy Lewis said: "Thomas Smyth deliberately abused the system for his personal gain.
"This is a tough lesson but if you prop up your lifestyle through illicit profits Soca will ensure you hand them back. "