Building industry to meet MLAs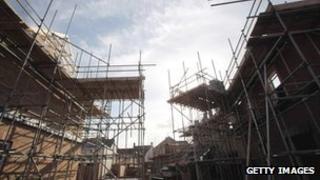 Representatives of Northern Ireland's construction industry will meet assembly members later to discuss how to boost the sector.
In the last five years, construction work has dropped by 40% and thousands of jobs have been lost.
SDLP MLA Patsy McGlone, chair of the all-party construction group, said the industry remained one of the brightest hopes of aiding economic recovery.
"Job creation is an absolute priority," he said.
"No politician, if they are living in the real world, can be immune to the difficulties many, many families are facing now.
"There is still a considerable amount of expenditure from this executive, it must be got out there, people must be kept in work.
"Our young people who are leaving the shores, and going to the likes of Australia, that's a huge skill base that we are losing."
In April 2011, government statistics revealed that up to 26,000 construction jobs had been lost in Northern Ireland since 2007.
John Armstrong from the Construction Employers Federation said the executive needed to look at developing private finance for infrastructure projects.
"Public sector budgets are going to be restricted for the next four years and probably beyond, the cake is not going to get bigger," he said.
"The construction industry has a unique multiplier effect, every £1 invested in construction activity generates a further £2.84 in the economy.
"It is also very good in delivering jobs very quickly."