27 NI Peacocks shops under threat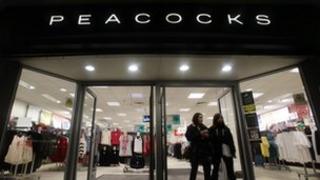 About 40 stores on High Streets in towns across Northern Ireland are under threat of closure as the retailers Peacocks and Past Times go into administration.
Peacocks said it intends to call in the administrators after failing to restructure £240m of company debts.
They have 27 outlets in Northern Ireland.
The company also own the Yorkshire chain Bon Marche, which has around 10 shops in Northern Ireland.
The other retailer in trouble is Past Times who have appointed administrators.
Forty-six stores across the UK have already been closed, including one at the Outlet in Banbridge.
The company also has a shop in Fountain Street in Belfast.