Dungiven bypass plans revealed to local landowners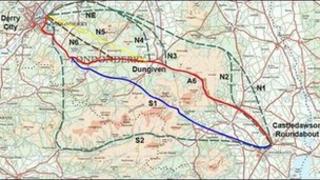 Landowners affected by the proposed new bypass around Dungiven have been allowed to view the plans for the first time.
The planned A6 bypass around the town is designed to ease traffic on the main Belfast to Londonderry route.
It is part of an plan to have a dual carriageway between Derry and Dungiven.
But funding for the road is not included in the current Stormont budget and no specific date for work to begin has been set.
Aiden Farren from the Dungiven bypass committee is hopeful that money from the postponed A5 Derry to Aughnacloy project can be reallocated to start work in Dungiven.
"Our main difficulty in the town at the minute is the high traffic but the by-product of the high traffic is the high levels of nitrogen dioxide in the town," he said.
"They are way above the recommended levels and it has been going on for years. But we are hopeful now that perhaps with the A5 being stalled at the minute maybe money from that could go towards the bypass."
Alan Keys, the project manager with Roads Service, agreed that was a possibility.
"There is nothing in the current budget for Dungiven bypass or the whole route but obviously at the minute the executive and the minister are discussing the implications of the A5 money and other budgets going forward," he said.
"So I understand that the minister and the executive are looking at not just Dungiven but a number of other schemes around the country and will be deciding on priorities in the very near future."