Sean Quinn family to face Anglo court battle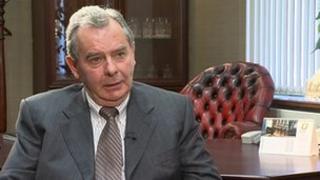 Members of Sean Quinn's family could follow him into bankruptcy in the Republic of Ireland.
The Fermanagh businessman was bankrupted in Dublin on Monday over a debt owed to the former Anglo Irish Bank.
Mr Quinn was once believed to be the richest person in Ireland.
Preliminary court hearings are due in Dublin on 2 February in which his wife and children are disputing a claim they owe the bank more than £2bn.
Mr Quinn said the bank is pursuing a vendetta against his family - something it denies.
Patricia Quinn and her children will claim huge loans made to them by the bank, now called IBRC, are invalid because they are "tainted with illegality".
They allege that the bank in effect used them as a conduit for a scheme aimed at propping up the bank's share price.
If the bank eventually wins the case the Quinns will be personally liable to pay back the loans, which could force them into bankruptcy.
Meanwhile, a prestigious hotel and golf course owned by Mr Quinn's son, Sean jnr, is up for sale.
He bought the Belfry, near Birmingham, for a reported £186m in 2006. It is now valued at less than £90m.
The sale is being directed by a consortium of banks which is owed about £100m.
Last week a wind energy company which was controlled by members of the Quinn family was placed into administration.
Quinn Wind Energy had its registered office is at Derrylin. Its director was Sean Quinn jnr and the company secretary was Mr Quinn's daughter, Colette.
Mortgage documents suggest that the company controlled the Slieve Rushen wind farm near Derrylin in County Fermanagh.
The company's most recent accounts are for the year ending December 2009 and were signed off on 22 December 2011.
They list the firm's bankers as Bank of Ireland and the balance sheet suggests the bank is owed about £12m.