Only one quarter of schools money found by Sammy Wilson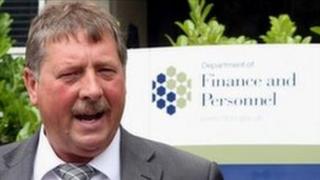 Only a quarter of a promised £120m for schools has been found by Finance Minister Sammy Wilson.
Earlier this month, the department of education had announced three extra amounts: £30m next year, £15m in 2013 and £75m in the third year.
However, only the first £30m has been found for sure.
Mr Wilson said urgent action is needed in schools, but he has reprimanded the Department of Education for having to hand back £10m of its budget.
It is part of the surplus held by schools but which they do not plan to spend before the end of this financial year.
The minister said he was disappointed that the department is handing back such a large amount of money and said he wanted them to improve their forecasting next year.
It is understood the schools will not lose the surplus money and will be able to spend it when they need to.
Mr Wilson said he was not blaming schools for not spending surpluses, but was critical of the Department of Education for not getting predictions correct at the end of last year rather than this month, so late in the financial year.
He assured schools they will not lose the money they have saved and which they may need for future projects or to avoid redundancies.