McCord to raise loyalist paramilitary concerns with Robinson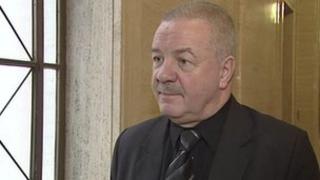 Victims campaigner Raymond McCord has accused unionist politicians of being more concerned with attacks involving republican dissidents than loyalist paramilitaries.
Mr McCord, whose son was murdered by the UVF, was speaking ahead of meeting First Minister Peter Robinson.
Lily Kelly is also attending the meeting.
She alleges the UVF was behind the brutal attack on her 23-year-old son on the Shankill Road last week.
Mr McCord said he was looking forward to his meeting with Mr Robinson but was scathing about some unionist politicians.
"Unionist politicians have stayed silent with the attacks in their community by the UVF and UDA," he said.
"I have people coming to our group all the time and it is mostly young people, sometimes it is adults themselves so we have the proof there, we have the files.
Victims
"The hospitals can show you the injuries, questions have to be asked, why are unionist politicians so frightened of the UVF?
"Let's stop making it a Protestant/Catholic issue, it's a victims issue."
Mr McCord met Sinn Fein's victims spokesperson Mitchell McLaughlin on Tuesday.
He said there was a need for "effective policing" in unionist areas.
Mr McCord has conducted a long campaign against the UVF, which he said killed his son, Raymond Jnr, in 1997.
The 22-year-old, a former RAF man, was beaten to death and his body dumped in a quarry.