Bangor Olympic sized pool delayed to 2013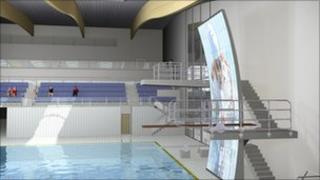 The completion of Bangor's new Olympic-sized pool has been delayed again.
It had been hoped it would be finished by the end of August, but now looks like the start of 2013.
The delay is because large timber rafters for the roof were damaged when they were being shipped from overseas.
The pool at Valentine Playing Fields will be Northern Ireland's first 50m pool and had originally been intended to be finished before London 2012.
It comes as the Department of Culture, Arts and Leisure had to hand back nearly £2m this financial quarter because of an under spend on the pool.