NI unemployment rate falls but benefit claims rise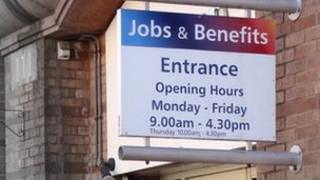 The unemployment rate in Northern Ireland has dropped slightly but the number of people claiming benefits has continued to rise.
The Labour Force Survey of unemployment stands at 6.8%, down 0.7 percentage points since last quarter and down 1% since last year.
The rate is lower than the UK average of 8.4%.
However the number of people claiming unemployment benefit rose slightly to 60,700.
That is up by 100 from last month's revised figure.
The Northern Ireland claimant count rate in December 2011 was the second highest among the twelve UK regions.
The Labour Force Survey (LFS) questions a number of people every month on their employment status, and is the most widely used by labour market economists as it allows international comparisons.
Unadjusted LFS estimates for September - November 2011 show that almost one-in-five young people do not have a job.
The unemployment rate for 18-24 year olds at 18.4%. This is, however, down 2.5 percentage points over the year.
The Enterprise Minister Arlene Foster welcomed the fall in the unemployment rate: "It was encouraging to note the latest labour market figures for Northern Ireland, which showed a rise in employment and a fall in unemployment during the latest quarter."
"However, the number of people claiming unemployment benefits continued to edge upwards and the recent announcement of redundancies by the Ulster Bank provided an unwelcome reminder that the local economy is still experiencing the fall-out from the global financial crisis," she said.
Meanwhile, the number of people losing their jobs continues to grow.
Six hundred and ninety three proposed redundancies were notified to the Department of Enterprise in the period from mid-December to mid-January and there were 245 confirmed redundancies in December - the highest since April 2009.
However, the jobs picture is bleaker south of the border.
The Republic of Ireland's rate of unemployment rate is 14.3%.