DEL's future up for consultation says Basil McCrea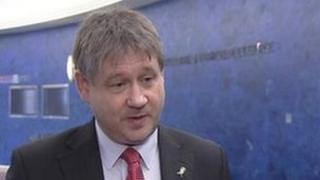 There will be a four-month consultation process to decide the future of the Department for Employment and Learning.
Basil McCrea said the consultation was decided upon "but had not been made public yet and was always subject to change".
Mr McCrea is the chair of the DEL committee.
The UUP MLA said he believed the consultation would run until May and people would be invited to give their opinions on the decision up until then.
The first minister and deputy first minister have proposed that the Department for Employment and Learning (DEL) should go completely, and its powers divided between the education and enterprise departments.
Mr McCrea said the committee should play a role in "how the department might, if it is to be disposed of, be reallocated".
He added that its work had been affected by the uncertainty.
"It is difficult for any committee or organisation which knows that it might be time-limited to maintain motivation and do something useful," he said.
His party colleague Sandra Overend recommended inviting Invest NI to the committee to discuss how it promoted business development, investment and skills in order to decide on how best to divide DEL's work.
Jim Allister of the TUV agreed the committee needed to play an important part in the debate.
"If there is to be a carve up of the department, then I believe it is appropriate that this committee should express a view on what shape that carve up should take," he said.
The SDLP's Pat Ramsey called for a special meeting of the committee to discuss the uncertainty over the department's future as it was causing "worry and concern" for universities and colleges.