Sammy Wilson tells unions to shut up over job predictions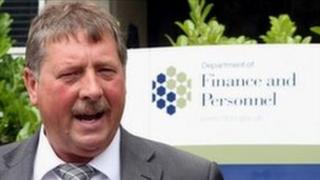 Finance Minister Sammy Wilson has said unions warning about thousands of future job losses in Northern Ireland should "shut up".
On Tuesday, the Irish Congress of Trade Unions said 26,000 public sector jobs could go in Northern Ireland by 2017.
Mr Wilson said such predictions undermined efforts to build confidence in the economy.
Speaking on Radio Ulster, he said: "If they haven't anything positive to say, then they should shut up."
He added: "Instead of engaging in rhetoric which damages the economy, I have been working as finance minister to try and mitigate the impact of decisions made in Westminster.
"We have been doing the thing responsibly, not going out trying to make the situation worse as the trade unions have been.
"This kind of negative talk about what might happen undermines all the good work people are doing across Northern Ireland."
The ICTU has warned that Northern Ireland would be the UK region hardest hit by public sector job cuts.
It said the figure was based on a TUC analysis suggesting that 26,000 public sector jobs would go in NI by 2017.
Mr Wilson said when looking at statistics, people should consider whether the source had an agenda and whether previous predictions had been accurate.
He said the unions were biased and only last year had warned about thousands of civil service job losses which had not happened.
"All we get from the unions is 'how can we make the story gloomier than it really is?'" he said
"It terrorises their own members about losing jobs; it reduces confidence in the economy so people don't spend money and that then affects investment decisions by firms because there isn't the confidence there to go out and purchase goods."
However, Kevin McCabe, assistant secretary of the NIPSA union, said: "Inflammatory language when you're dealing with such a serious matter is not helpful.
"If anything, the minister should be engaging on these matters and not telling unions to shut up.
"If he thinks that the TUC figures and the figures produced by the Office of Budgetary Responsibility projections are overly pessimistic, then why can't he give a commitment to protect jobs and fill vacancies now?
"If he can't do that, what is his forecast for public sector job losses?"