Man in court over revolver and cannabis find near Claudy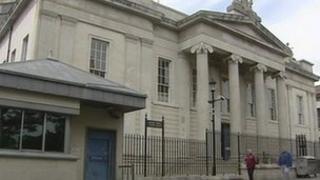 Londonderry Magistrates' Court has been told that police officers who searched a house near Claudy on Tuesday, found a revolver and ammunition.
William Andrew Gibson, 25, of Glenshane Road is charged with possessing the revolver, 10 rounds of .38 ammunition and 19 shotgun cartridges.
He is also charged with cultivating and possessing cannabis after two cannabis plants were found in the house.
Mr Gibson was released on bail to appear in court again on 23 February.
A detective constable told District Judge Barney McElholm the accused said he had obtained the weapon and ammunition when windows in his then home in Articlave were smashed two years ago.
The officer said the defendant believed it was his own brother who told police about the revolver.
Mr McElholm said he was concerned that the defendant was able to illegally obtain a weapon and ammunition.
He said that seemed to suggest the defendant had consorted with some sinister people.
As part of his bail conditions the defendant is not allowed to associate with his brother.