David Ford welcomes commitment on justice ministry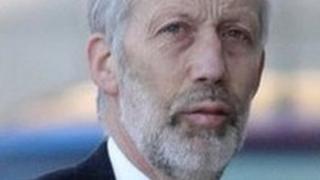 Alliance Party leader David Ford has welcomed a commitment from the NI first and deputy first ministers to make the position of justice minister as secure as the other Executive posts.
At present, the minister can be removed by cross community vote.
Peter Robinson and Martin McGuinness have said they now intend going to the assembly soon to extend the present justice arrangements beyond May.
Mr Ford was appointed justice minister after a deal in 2010.
Mr Robinson and Mr McGuinness will also write to the secretary of state for Northern Ireland asking him to introduce legislation at Westminster to ensure the tenure of the justice minister is consistent with other ministers.
In the meantime, they will publish a letter to the speaker indicating they will commit the DUP and Sinn Fein to ongoing support for the justice minister being appointed by cross community vote for the entire period of this assembly term.
The two ministers are also asking officials to make arrangements to prepare the necessary legislation to abolish the Department for Employment and Learning and transfer its functions.
It is understood this could happen as early as June.
In response Mr Ford, said he was encouraged that Mr Robinson and Mr McGuinness had addressed a number of concerns raised in his party's response to the proposals.
He said a final decision on whether Alliance will continue in the justice ministry beyond May would be taken by the party council "in its own time and in light of the content and timing of the Westminster legislation that is being sought by the first minister and the deputy first ministers".
Mr Ford's appointment as justice minister was a compromise to ensure justice powers could be transferred to Stormont from Westminster in April 2010.
As a result, the SDLP lost out on a second ministry, while the Alliance was able to gain one.