Delays 'stilting Northern Ireland renewable energy industry'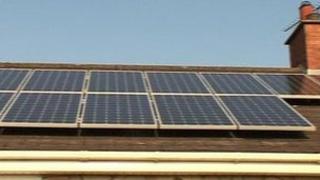 Companies which build and install renewable energy products, like solar panels, have said delays at Stormont have stilted their industry for the last two years.
In England and Wales homeowners and businesses are subsidised for installing certain kinds of renewable energy sources.
Either they get a grant to help with the cost of installation, or they have any excess energy they produce bought back off them - it's called a Renewable Heat Incentive (RHI).
The picture in Northern Ireland is different though. Plans for a Renewable Heat Incentive have been on pause for the last few years.
There was an economic appraisal last year and then a public consultation. Now the Department of Enterprise, Trade and Investment (DETI) are considering all of that and hoping to have a scheme in place by April.
DETI said: "The implementation of the RHI is also dependant on getting EU State Aid approval, making the necessary legislative changes and having an administrative system in place to manage the scheme.
"The timetable for completion of this work is challenging but at this stage the 1 April 2012 date has not been revised."
In the meantime companies in the renewable energy sector say their business has been hamstrung.
Many companies have deferred a decision to install renewable generators because the prospect of getting help to cover the costs is on the horizon.
The department is also being criticised for pursuing two goals that have competing aims.
As part of the St Andrews agreement DETI has an obligation to promote the development of the gas network in Northern Ireland.
That means that they are not planning to offer the Renewable Heat Incentive to companies in areas where the gas market is just developing.
Michael Doran of Action Renewables said "the department are unfairly and unreasonably shielding the gas industry".
Mr Doran argues that the department is being pulled in two directions, and they have to address that conflict which exists in the RHI plans.
But while the department takes a few more months to make their decision, renewable energy companies are left holding their breath and watching the orders dwindle.
Hear more on this story on the NI Business News podcast.