Northern Ireland waste firms 'could save £500m' on contracts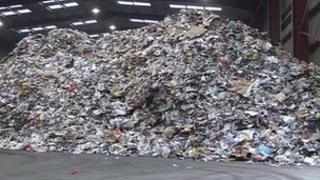 Local companies seeking to bid for new long-term waste contracts, claim they could save Northern Ireland's ratepayers £20m a year.
The 25-year contracts are being set up to ensure NI's councils hit EU targets on recycling and avoid huge fines.
But a dozen waste companies, which are not involved in the tender process, have claimed they could do the same work for less.
This would save councils £500m over the full term of the contract, they said.
A Stormont committee is set to question those involved in the tender process to establish whether the new deals, which are expected to be signed later this year, offer value for money.
For now, most black bin waste ends up in landfill. Northern Ireland's 26 councils dump 660,000 tonnes of it a year.
But stringent EU targets and penalties mean a new approach is needed.
So local councils have divided into three so-called "purchasing groups" to negotiate contracts with big waste players who'll try to divert as much of that as possible from landfill.
Those negotiations are at an advanced stage.
It will mean councils signing up to send guaranteed tonnages to new waste treatment facilities. They'll be paying an agreed price whether or not they fill their quotas.
We do not know yet how much councils will be charged.
The purchasing groups have said that cannot be disclosed because of "commercial sensitivity".
But the independent operators claim it could be more than £125 a tonne. They claim they could do it for £95 a tonne.
Recyco, which is based near Omagh, is one of the companies that claims it could handle the council black bin work.
It already deals with 35,000 tonnes a year of commercial waste from shops and offices which is similar to the content of domestic black bins.
'Crystal ball time'
Michael Cunningham, who runs the company said his licence terms permit him to deal with plenty more.
"At the moment the black bin is the major waste stream, the major tonnage. But over the next 25 years who knows what will be, it's crystal ball time.
"If I'd talked to you 25 years ago and told you that councils would be recycling 40 per cent of their material at the minute you'd have thought I was mad.
"And that highlights one of the dangers of the strategy the councils are pursuing at the minute.
"They're going to commit to guaranteed tonnages and who knows what tonnages they'll be producing in five years time, never mind 25 years."
The contracts will be Private Finance Initiative-based. The successful bidders will pay for new waste facilities.
The contracts are 25 years long to allow them to recoup their capital costs and make a profit.
In Belfast it will mean a new £200m incinerator and other waste treatment works which will take rubbish from 11 councils.
Citywaste in Londonderry is already doing council black bin work. It takes 10,000 tonnes a year from Magherafelt Council and diverts half of that from landfill by recycling and by producing a fuel used in cement manufacture.
General manager Gavin Doherty said his company is doing that work at a price well below the £125 a tonne which has been suggested could be the cost of any new long term contract in the north west.
"We're not subject to the same type of capital investment of any new plants, the 25 year security wraps, they all add to the increased tonnage costs associated with those bids.
"I'd be very confident we could do it significantly cheaper than what the PFI process is looking to bring it in at."
The three council "purchasing groups" appear before the Stormont environment committee today. They'll be asked a range of questions about the viability of the contracts they're about to sign.
DUP assembly member Simon Hamilton, deputy chair of the Environment Committee, said: "We're getting into 25-year contracts here. What happens if technology changes? What happens if, as we hope, the people of Northern Ireland recycle more and more?
"And what happens to the volume of waste that's require, and more importantly what happens to the price of the contract?
"In trying to find a long-term solution to our waste problem are we actually making a bigger problem for ourselves financially?
"I think it's only right and proper that the environment committee ask those questions of the purchasing groups and those in the department of who oversee this as well."