The Christmas gift with an itch in its tail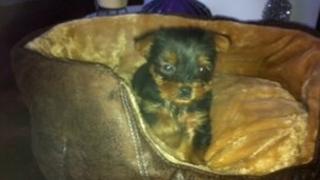 A man who bought a puppy, described on a website as pedigree, got a nasty surprise after bringing it home.
Within a week of obtaining the dog, four members of Norman Reilly's family had developed a rash on their bodies.
After visiting the doctor shortly after Christmas he discovered he had scabies.
A visit to a vet with Alfie brought a diagnosis of sarcoptic mange, also known as canine scabies.
In the busy run-up to Christmas, Mr Reilly had accepted the seller's offer to bring the dog from County Tyrone to Belfast and met him in a Belfast carpark.
He said he noticed the poor condition of the puppy's skin but the seller assured him it was just food that had got matted in the dogs coat on the journey.
"My mother kept it for a couple of days as it was to be a gift for my wife and she cleaned the coat as best she could," Mr Reilly told BBC Radio Ulster's Talkback.
"When I gave it to my wife she was delighted, but on Boxing Day she noticed she had come out in a rash on her stomach.
"Then I got the rash, her mother got the rash, my mother got the rash.
"The whole family was infested."
Alfie's coat also started to fall out.
Naomi Hoy, the vet who treated Alfie, said he was a sorry sight when he came into her surgery.
"Alfie had a lot of crusty, scabbing lesions over his body and quite a bit of hair loss," she said.
"You do wonder what type of environment this puppy came from.
"It's not a condition you see in such a young pup and for it to get so bad, it would have been incubating the disease for three weeks before it became clinically noticeable."
Backyard breeders
Angered by what had happened to his dog, Mr Reilly tried to contact the seller.
"He responded by text saying the dog was in perfect condition and must have gotten it somewhere else," he said.
"I told him I would report him to the relevant authorities and I think he panicked and he offered me half the money back.
"I don't want the money back, the money isn't the issue. I want this guy stopped."
Mr Reilly said he had also been in contact with other people who had bought from the same seller.
All had similar experiences - one had to put their puppy down due to its ill-health.
David Wilson from the Ulster Society for the Prevention of Cruelty to Animals said he had heard many similar stories.
"Northern Ireland has a major problem with puppy farms, it also has a problem with backyard breeders," he said.
"People who have one or two bitches. They'll take two litters out of each bitch a year, put them on the market and get themselves the price of a holiday.
"They don't care about the dog, they only care about the profit."
He urged all potential dog owners to see the puppy with its mother before buying and to insist that the dog has seen a vet and has all the necessary veterinary documentation.
Talkback tried to contact the seller but has yet to recieve a response.