Two more men charged over Philip Strickland murder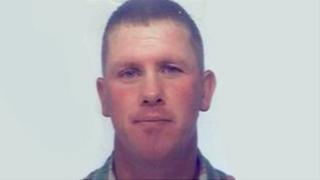 Two men have appeared in court charged over the murder of Philip Strickland.
Mr Strickland, 36, was found shot dead in a car on Quarry Road near Comber on 11 January.
Stephen Charles McCaughey, 24, from Shackleton Road, Newtownards, is accused of murder. He is the fourth man to be accused of the killing.
John Anthony Lawlor, 42, a lorry driver from Whitewell Road in Glengormley, is charged with perverting the course of justice and making a false statement.
Mr Lawlor was released on bail.
The men appeared separately at Newtownards Magistrates' Court and police officers told the court they could connect the men to the charges.
Philip Strickland was shot a number of times from behind with a shotgun.
On Wednesday, 21-year-old Stacey McCaughey from Dullisk Way in Comber was released on bail after she appeared in court in Bangor charged with the offence of perverting the course of justice and with making a false statement.
On Tuesday, a father and his two sons appeared before Ards Magistrates Court accused of Mr Strickland's murder.
They were Jimmy Seales, a 54-year-old farmer from the Ballykeel Road, Hillsborough, Ian Hugh Weir, 26, of the Derryboye Road, Killinchy and Jason Weir, 24, from the Raffery Road, Killinchy.
They were all remanded in custody.
On Monday, 44-year-old North Lucas from the Ballycreely Road, Comber was released on bail after he appeared accused of assisting offenders.
All seven defendants are to appear in court again next month.
So far 14 people have been questioned by detectives about the killing.