Christopher Harper gets 10-year minimum jail term for wife's murder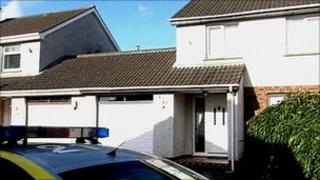 A County Armagh man found guilty of murdering his wife has been told he must serve a minimum of 10 years in prison.
Christopher Harper, 45, of Abercorn Park, Portadown, had admitted killing his wife Suzanne in the town in August 2010, but denied it was murder.
The 40-year-old died from a single stab wound to the neck.
The court had heard that on the day of her death Mrs Harper had told her husband she was leaving him.
Judge Kevin Finnegan said on Thursday that what Harper had done was "a selfish and evil act".
However, he said he accepted that his remorse at the time and since was "genuine and profound".
The judge said Harper's conviction "should make it clear to the public that no spouse should ever be exposed to physical harm or threat, never mind death, merely because of a decision to end a releationship with their partner".
The couple had been married in February 1987 and had three children.
Harper's defence had argued that he was a broken man who had snapped over his wife's extra-marital affairs and had then been filled with guilt and remorse.
However, the jury believed the prosecution case that Harper had intended to kill his wife.
The prosecution said he had been driven by jealousy and his inadequacies as a person to kill her.
After the killing Harper walked into Lurgan police station and, sobbing, said "I've done something bad".
The judge had said the only sentence open to him was life, but had asked for pre-sentence reports to help him to decide on a minimum tariff.