Northern Ireland winter drink-driving arrests rise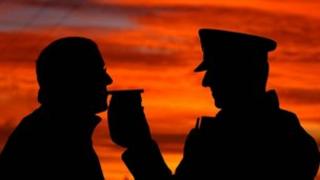 Police have arrested 408 motorists for drink-driving as part of their winter anti-drink-drive operation.
The figure was 44 more than the same period last year.
It included motorists who were unfit to drive, or who were unable to, or refused to give a sample.
Assistant Chief Constable Alistair Finlay said it was disappointing that 408 people "took the risk of killing or injuring themselves, their family, friends and other innocent road users".
"Our aim with this and every road safety initiative is to save lives and reduce injuries, which is why we ran operations day and night throughout the festive season and not just during the weekends or key dates," he added.
"During this operation, we stopped and performed roadside preliminary breath tests on 6,426 drivers.
"While that's over 7% more than during last year's operation, however, we should highlight that during the 2010/2011 operation, traffic levels were greatly reduced due to the treacherous weather.
"These 408 people across Northern Ireland have begun 2012 with the prospect of going to court where they will almost certainly lose their driving licence.
"They should count themselves lucky. They could have lost their own life or destroyed the lives of others had police not stopped them."