County Londonderry firm's assets collapse by 90%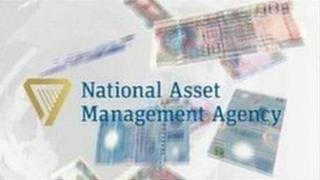 A property firm in County Londonderry, which was placed into receivership by the National Asset Management Agency, saw the value of its assets collapse by almost 90% in the property crash.
The details are contained in a receivers' report into Carn Properties, which had offices in Bellaghy and Belfast.
The company had properties in counties Antrim and Derry, as well as in the Irish Republic. The value of its assets collapsed from £19m to £2.5m.
The firm had Bank of Ireland loans of about £15.5m and Ulster Bank loans of £2.5m.
The Bank of Ireland loans had been transferred to Nama, which was set up by the Irish government in an attempt to save the country's ailing banking system.
It bought property loans which were made by Dublin-based banks, such as Bank of Ireland.
Seven properties
The loans were purchased at a discount to their original value - known as a haircut.
It is not clear what the size of the haircut was on the Carn Properties' loans and how much - if anything - Nama stands to lose due to the firm's collapse.
The receivers' report says that the firm faced increasing problems from 2007 and effectively ceased to trade in late 2010.
Bank of Ireland appointed the receivers, under the direction of Nama, in October 2011.
The Bank of Ireland loans relate to seven properties, including a partially built apartment block in Portrush which has not been worked on in three years.
Other properties include a 12-acre site at Carrickmacross in County Monaghan, a 33-acre site in Letterkenny, County Donegal and a nine-acre site in Portglenone.
The Ulster Bank loan relates to a 15-acre site at Boyle in County Roscommon.
Carn Properties' smaller creditors are owed about £500,000. None of that will be repaid.
Among those owed money are two Belfast architects who will lose £84,000 and £59,000 and a Coleraine architect who will lose £174,000.
Carn Properties is owed £6.3m by various subsidiary companies but the directors have told the receivers that only about £500,000 will be recoverable as the subsidiaries are all are all insolvent.