Supergrass witnesses have 'flawed memories'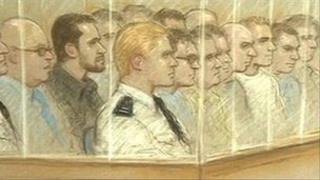 The judge in the UVF Supergrass trial in Belfast has thrown out some of the charges in the case.
It involves charges against ten of the 14 men in the dock.
Mr Justice Gillen said he "could not conceivably be satisfied of the guilt of the accused" in the cases of two serious beatings in 1996.
He said he believed the principal witnesses had flawed memories of the events and may have been mixing up several different beatings.
Much of the trial has been taken up by the testimonies of Robert Stewart and his brother Ian.
They have admitted UVF membership, and already served more than three years for their part in the murder of the Mr English on Halloween night 2000.
Mr English was shot dead in front of his wife and children at his home on the Ballyduff estate at the height of a loyalist feud between the UVF and UDA.
On Friday, Mr Justice Gillen said John Bond, one of the accused who was implicated in a beating, was actually in prison at the time of the incident.
The prosecution has indicated it will appeal against his decision.
Nine of the ten face other charges.
If the prosecution appeal fails, one of the 14 accused, David Smart would have no other charges against him and could be discharged.
The Judge will continue the case concerning the murder of UDA man Tommy English in 2000, UVF membership and other matters.
The trial began in early September 2011 and is one of the biggest and most expensive criminal trials in Northern Irish legal history.
All of the 14 men accused deny all the charges against them.
Under legislation called the Serious Organised Crime and Police Act, the Stewarts have signed an agreement committing them to giving truthful evidence about the men in the dock.
In such cases, so-called "assisting offenders" can have their sentences reduced in return.
In the case of the Stewart brothers, both have avoided the prospect of a further 19 years in jail, providing they are seen to have kept the agreement.
They handed themselves in to police in August 2008, and underwent more than 330 police interviews in total, some of them at secret addresses outside Northern Ireland.