Transport company directors unfit to run business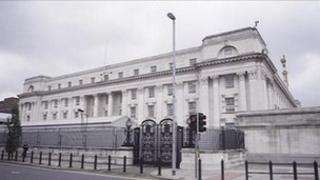 Two directors of a failed County Down freight transport business are unfit to run a company for the next eight years, the High Court has ruled.
Disqualification orders were imposed against Kevin Martin Tinnelly and Catherina Rose Tinnelly.
They were held to have shown "a lack of probity" in failing to pay over a £60,000 insurance settlement.
Their company Tinnelly International Transport Ltd is now in administration.
It was established that the company owed more than £560,000 in tax and national insurance, had not submitted a statement of affairs, and failed to file annual accounts.
Delivering her judgment, Master Kelly pointed out that three other firms which listed Mr Tinnelly as a director have undergone insolvency procedures with liabilities ranging from £1.1m to £2.9m.
A further three companies breached statutory obligations over the filing of accounts.
She said: "I am satisfied that this is a serious case in which the respondents have demonstrated a lack of probity, particularly with regard to the issue of failing to pay over insurance monies properly due to a third party.
"In my view the respondents are not fit to be concerned in the management of a company and that a substantial period of disqualification is appropriate."
Tinnelly International, based at Kilbroney Road, Rostrevor, provided transport services for scrap metal haulage, peat and wood chippings.
Accounts for 2006 showed an annual trading profit of £131,000.
But after increased fuel costs impacted on its profitability it went into administration in 2009.
Loss
Seeking disqualification orders against Kevin and Catherina Tinnelly, the company's only directors, the Department of Enterprise, Trade and Investment (DETI) claimed both were unfit for the role.
Neither respondent defended the allegations or participated in the proceedings.
Master Kelly ruled that each of the claims made against them had been proven.
She classed the alleged failure to pay over an insurance settlement for a customer's goods in transit as perhaps the most serious.
Tinnelly International claimed for the loss of goods belonging to Clearway Disposals Ltd when a cargo ship ran aground in January 2008.
Insurers made a payment of nearly £76,000, which included a sum of just over £60,000 due to Clearway to settle the case.
The court heard Tinnelly International failed to pay over the sum due for the loss sustained.
"The company has never accounted for this failure or for what happened to the monies," Master Kelly said.
"I am satisfied therefore that this allegation is also proven."
She ruled: "The period of disqualification I hereby impose as against the respondents is eight years."
The Department was awarded its legal costs against the Tinnellys.