Colin Duffy says 'DNA planted' in get-away car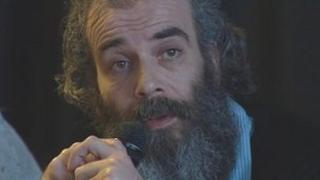 Prominent republican Colin Duffy, who has been cleared of murdering two soldiers in Antrim, has said he believed his DNA had been planted in the getaway car.
On Friday, Mr Duffy, 44, from Lurgan, was acquitted of murdering Mark Quinsey, 23, and Patrick Azimkar, 21 at Massereene Barracks in March 2009.
His co-accused, Brian Shivers, 46, from Magherafelt was convicted.
Mr Duffy said he had "no involvement" in the attack.
He made the comments at a news conference on Saturday.
"Let me state quite categorically here that I had no involvement with what happened at Massereene - no involvement whatsoever - and that has been vindicated in the court," he said.
"There was no credible evidence to suggest otherwise."
On Friday, the judge said he was satisfied that Mr Duffy's DNA had been found on a latex glove tip inside the car and on a seat buckle, but, he said, the prosecution had failed to link the defendant to the murder plot.
Mr Duffy told the news conference he had "never been in that car".
"My position has been, from the word 'go', that my DNA, was in my opinion, planted there," he said.
Mr Duffy, who has been in prison for the last three years, faced a total of nine charges, along with Brian Shivers.
As well as murder, Shivers was also found guilty of six counts of attempted murder and one of possession of two firearms and ammunition with intent to endanger life.
Mr Duffy was acquitted on all of them.
Sappers Mark Quinsey, from Birmingham, and Patrick Azimkar, from London, had been due to travel to Afghanistan hours after they were murdered.
The dissident republican group, the Real IRA, claimed responsibility for the attack, which left several others injured.
The Real IRA was born out of a split in the mainstream Provisional IRA in October 1997, when the IRA's so-called quartermaster-general resigned over Sinn Fein's direction in the peace process.