Colin Duffy in 'state persecution' claim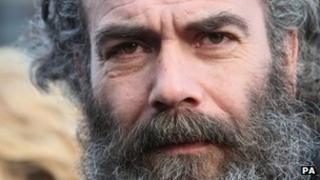 Colin Duffy has been accused of murdering five members of the security forces in the past 20 years in Northern Ireland.
He has been called many names in that time, but the description he likes to use is "republican political activist".
He does not mind being called a dissident republican. He makes no secret of his opposition to Sinn Fein and the political status quo.
However, he vehemently denies being a murderer. He says he has been a victim of "state persecution".
The 44-year-old Lurgan republican is known to his friends as "Collie". He is unique in Northern Ireland legal history.
He has been cleared of murder in three different ways - in one case the charges were dropped before going to trial, in another his murder conviction was overturned on appeal, and in the case of the Massareene Barracks killings he was acquitted after a full trial.
He spent almost three years in jail awaiting trial. He grew a long beard as part of a protest about conditions in prison.
At a news conference in west Belfast following his release, he agreed to take questions from the media.
I asked him about the murders at Massareene of sappers Patrick Azimkar and Mark Quinsey.
Here is the exchange:
Q: Did you have any involvement at all in the Massareene killings and, secondly, what is your view of what happened that night?
A: Let me state quite categorically here that I had no involvement in what happened at Massareene. No involvement whatsoever. And that has been vindicated in the court because there was no credible evidence to suggest otherwise.
Q: And what is your view of what happened that night?
A: Well, these are actions that people are undertaking out there and these people can address these issues themselves.
Q: Would you describe yourself as a dissident republican?
A: Depends on how you define dissident. If that means somebody who dissents from mainstream Sinn Fein thinking, then I'm quite happy to class myself in that light.
Q: You used to be in favour of the Sinn Fein position - what changed your mind?
A: Obviously you had from the 1998 Good Friday Agreement people moving into Stormont, policing issues, justice issues. All these legacy issues, they haven't been sorted out to this day.
The Massareene murders were carried out in 2009 by the Real IRA. The two young soldiers, aged 21 and 23, were shot dead as they collected a pizza delivery the night before they were due to leave Northern Ireland for Afghanistan.
At the news conference, Colin Duffy was asked his view on armed republican groups
He said: "I am not into condemning these groups or anything like that because I don't believe that there is any value in that."
He didn't say he supported the armed groups but added: "I'm not into the politics of condemnation."
It is the type of language which senior Sinn Fein politicians like Gerry Adams used to use in the 1980s and 1990s.
Although they both have beards, he does not believe he has much in common with the Sinn Fein president.
For much of the past 22 years, Colin Duffy has been in the news.
In 1990, he survived a loyalist murder attempt
In 1993, he was charged and later convicted of the murder of retired Ulster Defence Regiment soldier John Lyness in Lurgan. He was given a life sentence and was sent to the Maze jail before the conviction was overturned on appeal
In 1997, he was accused of the IRA murders of two police officers - John Graham and David Johnston - in Lurgan. The charges were later dropped
In 1999, his solicitor Rosemary Nelson was killed by loyalists when a booby-trap bomb was planted beneath her car
In 2009, he was arrested in connection with the Massareene murders. Although his DNA was found in the getaway car used in the attack, there was no evidence that he had been in the car immediately before, during or after the killings
Although he chose not to give evidence at his murder trial, he later claimed that the DNA had been "planted" in the vehicle and that all of the evidence against him was "spurious".
What is next for Colin Duffy now that he has been released?
At the news conference, he shrugged his shoulders and said: "I'm a republican political activist and I don't intend to change. Always have been, and always will be."