Four masked men attempt to hijack woman's car in south Belfast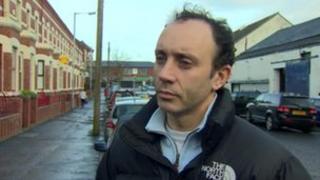 Four masked men have attempted to hijack a woman's car in south Belfast in the early hours of Sunday morning.
The woman was forced to stop by the men standing in front of her car. It happened shortly after midnight on Agincourt Avenue.
She locked her doors, and despite the men's attempts to open them she was able to drive off.
There have been a series of other hijacking incidents in the past fortnight.
They have mostly targeted women drivers.
Police have set up a task force to deal with the attacks.
SDLP South Belfast MLA Conall McDevitt said this attempted hijacking was different than the others.
"I believe events in the current rash of carjackings have taken a sinister turn given the involvement, in this incident, of masked men - something which has not featured in previous instances," he said.
"On this occasion, they were unsuccessful in their attempts as the driver had her doors locked, which is a positive indication that drivers are taking their security seriously, but I would continue to urge motorists to take all possible measures to ensure their safety."