Kate Richardson from Portadown breaks records in Atlantic Ocean row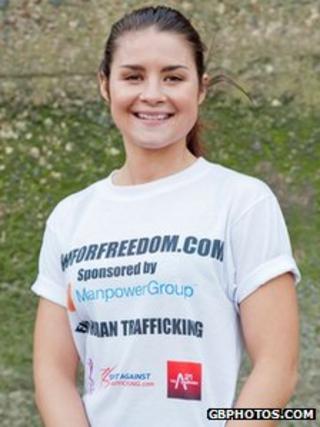 A 22-year-old from Portadown has become the first woman from Ireland to row across the Atlantic Ocean.
Kate Richardson was among a five-woman crew to row across the ocean in the fastest time ever recorded.
The University of Ulster graduate was joined by Julia Immonen, Debbie Beadle, Helen Leigh and Katie Pattison-Hart.
The five women, who started in La Gomera in the Canary Islands 45 days ago, arrived in Barbados at 05:13 GMT on Saturday.
They came fifth overall in the Atlantic Challenge, a journey described on its website as "the world's toughest rowing race".
This was despite leaving nearly two days after the other 16 boats taking part in the race.
The 3,000 mile trip was in aid of Row for Freedom, an initiative set up by team member Julia Immonen, in order to raise £1m to help human trafficking victims.
Kate, who agreed to take part despite having no rowing experience, said she was proud of the crew's achievement.
"We're absolutely delighted with what we've achieved and the final few hours as we rowed into Barbados were particularly emotional," she said.
"The Atlantic crossing takes place every two years and, in terms of the number of boats retiring, this has been the toughest since 1995 so we're really pleased to have got here safely and well inside the previous record time."
Setbacks
The team suffered a series of major setbacks, including the withdrawal of experienced English skipper Andrea Quigley due to unforeseen circumstances shortly before the race began.
The loss of one member meant each remaining member of the crew was forced to spend extra time on oars duty and take on other additional tasks.
The open water provided many obstacles such as 40-foot waves, fatigue and a series of problems with equipment.
The boat's steering system also failed, a rowing position was destroyed so that only two people could row at any time and some food supplies were ruined by leaking hatches.
In addition, the team's water-maker caught fire forcing someone to spend 12 hours a day hand-pumping sea water to purify it.
Six competing crafts had to retire early from the race, including three which capsized.
Kate added it would take time to acclimatise after spending more than six weeks at sea.
"There's so much about Barbados which we've looked forward to - from little luxuries like fresh fruit to a normal night's sleep in a proper bed - but it's hard to believe we're actually here," she said.
"Our routine on the boat had become a way of life so it'll probably take time to adjust to sleeping more than two hours at a time and being able to walk about."