Progress of court cases criticised by inspectors again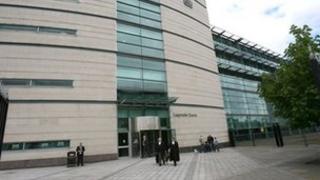 The speed at which some criminal cases in Northern Ireland are completed has slowed since a highly critical report in June 2010.
That is the finding of a follow-up report published by the body which oversees the criminal justice system.
The Criminal Justice Inspectorate said that, on average, legal cases in Northern Ireland take twice as long as those in England or Wales.
It can take seven-and-a-half times as long in some youth courts.
The report published on Tuesday is a follow-up to two reports carried out in 2006 and 2010.
Chief Inspector Dr Michael Maguire said it was now time to introduce statutory time limits for cases going through court.
"While considerable effort has been made to redress the problem, progress has been slow and indeed performance has got worse for Crown Court cases and for Magistrates' Court cases which commence through report and summons," he said.
"A significant reduction in the end-to-end times for case progression requires a number of successful building blocks to be put in place.
"Put simply, it requires desire, the right people making decisions, on-going monitoring, changes in behaviour and a flexibility in approach.
"It also needs to be recognised that no single agency within the justice system has the capability alone to make it happen and, that, for those outside the normal accountability arrangements of that system, like solicitors and barristers, a change in behaviour will be needed
"We recommend the phased introduction of statutory time limits starting with Youth Court cases within the next two years."
Solicitor Tony Caher told Good Morning Ulster that while the delays were "unacceptable", fixing the problem would be "complex".
"If we do not have targets, if we do not have strict time limits, there is inevitably slippage," he said.
"There is no point putting in targets, when resources are not put into the institutions to enable them to meet the targets."
Mr Caher said more resources must be given to the police and the Public Prosecution Service (PPS) to enable them to work together more efficiently.
"We in the legal professions sometimes find there is a breakdown in communication between the institutions - for example the presenting lawyer in court on the part of the PPS is not aware of what is happening in terms of the police investigation and vice versa," he said.
"So there are simple institutional reforms that can be put in place to ensure people work together and cases progress more efficiently.
"The Lord chief Justice brought in a practice direction in terms of Crown Court practices which puts in place very, very strict time limits for when a case is transferred to the Crown Court for trial and the defence team have to be ready to move immediately."