Cars will not escort ambulances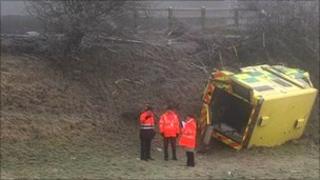 Police cars will no longer be used to escort ambulances to hospital, the PSNI has said.
The decision follows a crash in County Fermanagh in 2011.
An ambulance, following a police car, collided with a lorry and overturned near Brookeborough. The lorry pulled out onto the road after a gap between the police car and the ambulance developed.
Police have said trained motorcycle teams will now be used.
It is understood that when used, one of the motorcycles could stay with the ambulance, while the other could travel ahead stopping traffic and closing junctions.
However, the Ambulance Service said they have been told that those teams may not always be available.
In the January 2011 accident, a doctor was seriously injured and two nurses and two ambulance crew were also hurt.
The ambulance had been transferring a patient with swine flu from hospital in Enniskillen to Belfast.