Sharp drop in price of new homes in Northern Ireland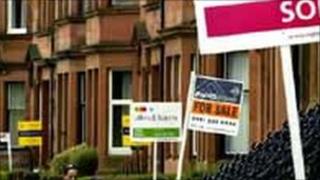 The average sale price of new houses in NI has fallen by almost 10% in the last year, according to figures from the Department of Social Development.
Using data from the National House Building Council (NHBC), the department found the average price to be £152,900 between July and September 2011.
In the same period in 2010 the price was £168,200.
The sales of new houses at their lowest quarterly level since the information was first recorded in 2005.
Just 253 new houses were sold in the quarter compared to 387 in the same period in 2010.
By comparison 1,837 homes were sold between April and June 2006.
The average price of a new house is now below what it was in July-September 2006 when it was £159,900.
In the peak quarter of April-June 2007 the average sale price was £216,400.
The data for new house sales and prices are derived from transactions for new dwellings notified by solicitors to the NHBC
While NHBC-registered builders account for a very high proportion of newly-built dwellings, their coverage is less comprehensive in rural areas.
The Northern Ireland Housing Bulletin, including sales of new houses and apartments during the period July to September 2011, was published on Tuesday.