Martin Kelly jailed for dissident murder of Andrew Burns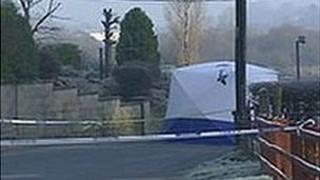 A Strabane man has been jailed for life by the Special Criminal Court in Dublin for the dissident republican murder of a man four years ago.
Andrew Burns, 27, from Strabane, was shot twice in the back in February 2008 in a church car park in County Donegal.
Martin Kelly, 37, of Barrack Steet, had pleaded not guilty to the murder which was linked to the dissident republican group, Oglaigh na hEireann.
Kelly was also sentenced to eight years in prison for possession of a firearm.
Mr Justice Paul Butler, presiding at the non-jury court with two other judges, said that the court had no discretion with regard to the murder conviction and sentenced him to life imprisonment.
The judge paid tribute to the Garda investigation and said they had "left no stone unturned" in their efforts.
Both the victim and the defendant were involved with Oglaigh na hEireann.
The court previously heard that Kelly had been told to bring Burns from his home in Strabane to Donnyloop in Donegal for a punishment shooting.
He drove him to the church car park where three men were waiting in a hedge.
A gunman fired at Burns, who ran but was hit by a second shot which killed him. All three got into Kelly's car and he drove them back across the border, stopping to hide the gun in a hedge.
Kelly was interviewed by officers from Garda and the PSNI at a hotel in Northern Ireland where he admitted what he had done.
A Garda superintendent said that Kelly had named his accomplices during an interview with gardai.
He agreed with a defence counsel that because of this there was "a very real, exceptional, dangerous threat to his life" and that he would probably have to be exiled from his family and home when eventually released from prison.
The superintendent said that the Garda investigation into the murder still continuing with the assistance of the PSNI.
He said that to date five people had been arrested in connection with it.