Police officers withdrawn from Stormont over row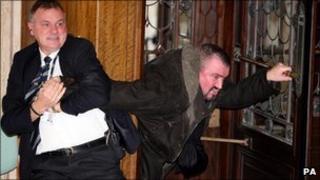 Uniformed police officers were withdrawn from Stormont for the first time in six years on Tuesday.
A row over accommodation was to blame, according to the Ulster Unionist Party.
Policing Board member Ross Hussey said it happened after the officers were told they were being re-located to another room in Parliament Buildings.
He said it meant the building had no police cover for the first time since the incident involving the loyalist Michael Stone in 2006.
An assembly spokesperson said that for "operational reasons" the PSNI temporarily removed the officers "for a very short period of time".
She added: "Those officers have now resumed duty."
A PSNI spokesman said: "Any issues with office accommodation is a matter principally for the Parliament Building estates.
"In accordance with the service level agreement, officers continue to provide security to the Stormont estate.
"Police are satisfied with arrangements for officers deployed at Parliament Buildings."
Mr Hussey said he intends raising the matter with the chief constable.