Neo-natal units to screen for pseudomonas bug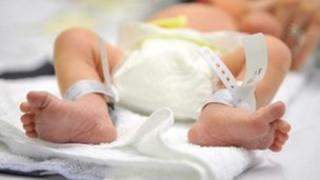 Neo-natal units that have received babies from the Royal Maternity and Altnagelvin neo-natal units since 14 November 2011 have been advised to screen infants who are still in their care for Pseudomonas.
The Public Health Agency (PHA) said it is possible that more babies could be found to have the infection.
Three babies have died in January at the Royal Maternity after contracting the infection.
Another had died at Altnagelvin.
The Department of Health has said the number of babies who have the Pseudomonas bacteria on their skin associated with the Royal outbreak, is now eight.
It is possible to carry the bacteria on the skin and not become infected.
On Wednesday, the PHA said prior to the current outbreak there was "no clear rationale for routine pseudomonas screenings".
It emerged on Tuesday that sink taps were the source of the infection in the neo-natal unit at the Royal Jubilee Maternity Hospital.
A case involving a seriously ill child was confirmed as Pseudomonas on Tuesday but the baby's condition is now said to be improving.
Sink taps were also identified as the source of a different strain of the infection which affected three babies at Altnagelvin Hospital in Londonderry before Christmas. One of those infants died.
Ms Gildernew, chair of the assembly's health committee, has now called for taps in all neo-natal units to be replaced.
"Following the tragic death of a baby in Altnagelvin Hospital from a strain of pseudomonas that was held within the taps, guidance was issued following the identification of the source of the virus," she said.
"We now find out that it was the taps within the Royal Jubilee Maternity neo-natal unit that were also the source of the second outbreak which saw three babies die as a result.
"The glaring question is why were the taps not replaced or investigated following the case in Altnagelvin?
"I am calling, very strongly, for all the taps in all our neo-natal units to be replaced with modern fixtures that will prevent any further outbreaks emanating from this source."
The unit at the Royal was deep cleaned at the weekend after six babies were found to be infected.
Sterile water is now being used for nappy changing in the neo-natal unit.
The Health Minister, Edwin Poots, has stressed that there is no evidence that the bacterium was in the water system.
He said all taps and related pipe work in the affected areas of the hospital were being replaced.
New ultraviolet light taps which kill bacteria at source will be introduced in the neo-natal unit as a result of the infection.
Pseudomonas aeruginosa is found widely in soil and stagnant water. It does not usually cause illness in healthy people but can pose a serious threat to people with weak immune systems.