Man charged over 'coma' robbery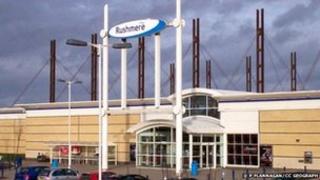 A Craigavon man been charged with attempted murder after a robbery which left a man in a coma for a month.
Joseph Thomas Carragher, 27, from Parkmore, appeared in court on Wednesday following the incident on 22 December.
The injured man was spotted lying in the road near Rushmere shopping centre. His trainers, wallet and mobile phone had been stolen.
The defendant was remanded in custody.
A detective told Craigavon Magistrate's Court that, initially, doctors had not expected the victim to live.
However, he emerged from a coma several days ago.
The detective said doctors were not yet able to say if he would make a full recovery.
Previous convictions
Objecting to bail, the detective said the defendant's DNA had been discovered on a broken and bloodied bottle found at the scene.
He said bloody footprints found on the victim matched the defendant's shoes and that CCTV from a nearby store showed him and two other men in the area at the time.
He also revealed that Mr Carragher had a number of previous convictions for assault.
Cross-examined by a defence lawyer, the detective confirmed that none of the stolen items had been recovered.
The defendant is due in court again next month.