Former junior minister Ivor Callely arrested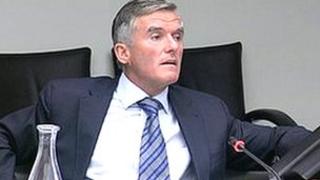 A former Irish government minister has been arrested over an investigation into alleged expenses fraud.
Former junior minister Ivor Callely was detained over allegations that false invoices may have been submitted and monies paid for mobile phone expenses.
Mr Callelly served with the Fianna Fail party but has now left it.
He had to resign from his ministerial post in 2005 when it emerged a company involved in public contracts had painted his house for free.
He subsequently lost his seat in the Dail before the then Taoiseach Bertie Ahern appointed him to the Irish Senate.
In the Senate he was again at the centre of controversy when he claimed 80,000 euros in travel expenses to his house in Cork, despite also having a house in Dublin, about 200 miles closer to the Irish parliament.
A committee of the Senate suspended him, a decision which he successfully overturned in the High Court.
He was also involved in an incident in west Cork in 2009 when his motor cruiser collided with two other boats.