Results of GCSE consultation in Northern Ireland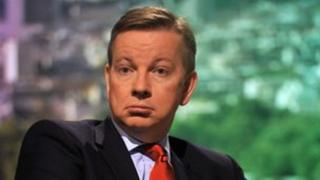 More than half of responses to a consultation on proposed changes to GCSE exams in Northern Ireland indicated a preference for the current system.
Dale Heaney from the Department of Education has told the Stormont education committee that the Education Secretary Michael Gove had written to NI Education Minister John O'Dowd.
"He expressed the view that the modular approach had damaged the reputation of GCSEs and had raised concerns over the burden of assessments, the reduction of teaching time and the possibility of fragmented learning," he said.
Currently GCSEs can work in two ways; pupils can take all their exams at the end of a two year course, or they can take a unitised route where they are assessed throughout the two year course at the end of each unit.
Mr Gove has announced that the unitised system which includes these modular GCSE exams would be scrapped from September in England.
Mr Heaney said a 12-week consultation on the education secretary's plans which took place in December 2011 received 460 responses, with 56% preferring to continue the unitised system, 28% preferring a mixture of the two, and only 16% favouring a return to linear.
Commenting on some of the responses, Mr Heaney said that many school principals felt "re-sits were an important part of the learning process".
He said there needed to be an assurance that if Northern Ireland decided not to implement the changes, pupils would not be disadvantaged if they wished to study at universities in England.
Committee chair Mervyn Storey said there was "undoubtedly a variance of views" shown in the consultation and read one response which said that "having a mix of both gives a better success rate".