Hain memoir remarks 'unwarranted'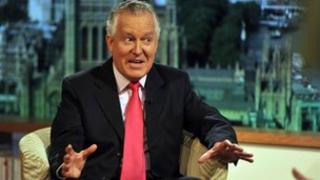 Northern Ireland's lord chief justice has criticised the former Secretary of State Peter Hain.
Sir Declan Morgan said that Mr Hain had made "unwarranted and wholly inappropriate remarks" about a decision made by a Belfast judge.
In his memoir, Mr Hain criticised the judges handling of a case regarding the appointment of an interim victims commissioner in 2006.
Mr Hain, now shadow Welsh secretary, was NI secretary from 2005 to 2007.
In his autobiography Outside In, he described Belfast High Court judge Sir Paul Girvan as having been "off his rocker" when he ruled on a judicial review challenge to the appointment of the commissioner.
As secretary of state, Mr Hain had, in 2005, appointed Bertha McDougall as an interim commissioner for victims of the troubles.
Mrs McDougall's appointment was appealed to the High Court, and Sir Paul Girvan ruled that it had been made for "improper political purpose".
In his book, Mr Hain claimed the decision had been "idiosyncratic" and "high-handed".
Northern Ireland's most senior legal figure described the comments as having the potential to amount to "an assault on the wider independence of the judiciary".
On Thursday, Sir Declan said: "There is a statutory obligation on those in ministerial office to uphold judicial independence.
"In this instance however, it is difficult to regard the remarks as anything other than undermining and unhelpful to the administration of justice in Northern Ireland."
The Northern Ireland Assembly's justice comittee is to invite Mr Hain to appear before them to give evidence on the review of judicial appointments in Northern Ireland.