Police warning over Glengormley egg throwing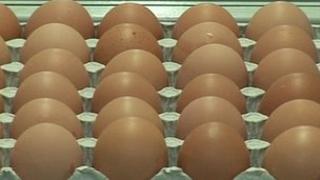 Police have issued a warning after a series of incidents in which eggs have been thrown at cars in Glengormley.
In the latest incident, eggs were thrown at a car windscreen close to a pedestrian crossing on the Antrim Road, obscuring the drivers view of the road.
Police said if the light had changed or had someone been trying to cross the road the incident "could have resulted in some very serious consequences".
There have been a number of similar incidents in recent weeks.
They have happened mainly in the village and Mayfield areas.
"Police cannot emphasise enough how dangerous it is to throw anything at a moving vehicle," a spokesperson said.
"As happened in the incident outlined you could prevent the driver from seeing the road ahead or cause them to lose control and potentially cause a collision.
"Anyone found to have caused a collision or any injury or harm to another person due to such reckless behaviour could find themselves criminally liable."