Safety questions after car crashes into Newry canal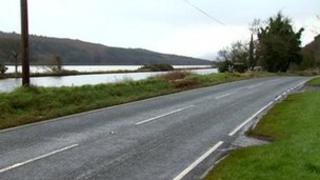 The safety of a cross-border road has been brought into question after the death of a man whose car plunged into a canal.
Local businessman Pat McArdle died when his car left the Fathom Line, outside Newry and plummeted into the canal.
There have been similar crashes on the road in the past.
Five years ago, a Belfast family narrowly escaped death when their car went into the same waterway.
Geraldine Rice said four people were in the car at the time, and believes the road is unsafe for the volume of traffic which uses it.
"What happened yesterday has brought it all back, seeing what another family is going through," she said.
"There needs to be more safety measures put on the road, more speed ramps, speed cameras, more speed cameras."
"I was lucky to walk away with my son and the other two in the car."
The Fathom Line links Newry and the village of Omeath, in County Louth, and runs parallel to the canal.
On Wednesday, Newry Mayor Charlie Casey said: "There is a history with that road. There have been a number of incidents and a number of near misses."
In a statement the Department for Regional Development said: "Roads Service has no immediate plans to erect barriers at this location, however we will consider the outcome of the PSNI investigation."