Northern Ireland farming income rises by 21%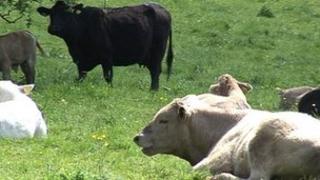 There's been a marked recovery in the fortunes of the NI farming industry which saw its income rise to £308m last year - an increase of almost 21%.
While the wider Northern Ireland economy may be struggling, farming is prospering thanks to a rise in world produce prices.
Dairying is still the largest contributor - the volume of milk produced increased by 6.2% in 2011.
But as well as boosting production, farmers received higher returns.
The average farm-gate price increased 8.8% above 2010 levels.
Beef and sheep producers also enjoyed a recovery in farm gate prices in 2011, while the value of crops like barley and wheat also increased.
Importantly for local jobs the poultry sector, which employs thousands of people, increased output by 10.5%.
The income figures are all the more remarkable given that farmers had to contend with sharply rising production costs.
Fertiliser prices increased by a third and farmers reacted by reducing the amount applied.
The volume of fertiliser purchased fell by 18.5% in 2011.
Machinery repair costs rose by 4.4% while fuel bills for tractors and combine harvesters increased by 19.3%.
Commenting on the income figures, Agriculture Minister Michelle O'Neill said: "It is encouraging to see a rise in overall farm income, which shows that the agricultural industry is continuing to do well in these difficult economic times."
But while agricultural fortunes may be recovering, the fact that 87% of farm income still comes from European subsidies underlines the vulnerability of the sector.
"There is no doubt that we need a strong, well funded CAP that provides support and fosters improved competitiveness without overburdening us all with red tape," Mrs O'Neill said.
"I am committed to fighting for these outcomes in the ongoing CAP reform negotiations."