Empey fears Scottish independence could reignite NI Troubles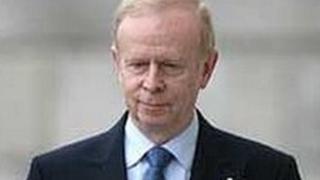 Lord Empey has warned that independence for Scotland risks reigniting conflict in Northern Ireland.
The former Northern Ireland Executive minister was speaking during a debate in the House of Lords about the Scotland Bill.
Lord Empey said the discussion was about the future of more than 60m people.
He called on supporters of the Union to emphasise the strengths and shared history of the UK.
The former Ulster Unionist Party leader said Northern Ireland had "spent decades overcoming nationalist terrorism and we gradually after years and years and years managed to settle down our community".
"I don't wish to exaggerate, but if the Scottish nationalists were to succeed it could possibly reignite the difficulties we have just managed to overcome," he said.
"I do not say that lightly."
West Pakistan
He told peers said that if Scotland broke away from the UK, people in Northern Ireland would have "a foreign country on one side of us and a foreign country on the other side of us".
"We would end up like West Pakistan," he said.
"We are all hewn from the same rock.
"Just imagine the situation we would be placed in."
Lord Empey's comments came as Lord Forsyth of Drumlean, a former Scotland secretary, questioned why the government was going ahead with the bill, when consultations are under way on an independence referendum and the Scottish Parliament has yet to signal its consent to the legislation.
He said that if Scotland went ahead with a referendum without consent from Westminster it would have no practical effect and be the "most expensive opinion poll in history".
Lord Empey said he had spent "many years negotiating with Irish nationalists of different shades" and it was important to get the tone of the Scottish debate right.
"We should not hector or bully the Scottish people - we must not, we cannot, and if we do we do so at our peril," he added.