Winding-up order on one of Peter Curistan's firms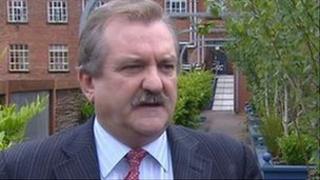 Property developer Peter Curistan has voiced his disappointment after the closure of one of his firms which ran a bar and nightclub at Belfast's Odyssey Pavilion.
A High Court winding-up order was made against Marcus Ward Ltd on Thursday.
It held leases for two units in the complex and was not represented as HM Revenue and Customs was granted the winding-up petition.
Mr Curistan said up to 30 jobs would be lost as a result.
He also said he feared for the future of the Odyssey as the neighbouring Titanic Belfast centre prepares to open.
"Our politicians have failed to understand the implications or do anything about it," he said.
He added that the winding-up of Marcus Ward Ltd had "put another 20-30 people on the dole to add to the misery of young Belfast people".
Marcus Ward Ltd was part of Mr Curistan's wider business portfolio. He lost control of his main asset the Odyssey Pavilion in 2010, when it was put into administration.
Mr Curistan was instrumental in building the Odyssey and owned a 150-year lease on the venue.
Last week, the former Anglo Irish Bank failed in a legal attempt to recover more than £1m from Mr Curistan.
It was seeking an order in respect of loans on two houses and a commercial premises owned by him.
A judge said that the matter will have to go to full trial.
The Belfast property developer is involved in a wider legal battle with the bank, which is now known as the Irish Bank Resolution Corporation, in cases involving loans of more than £70m.