Dunmurry man 'found shotgun in bin'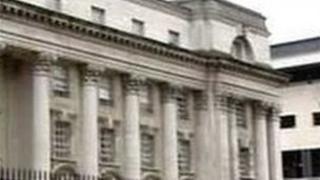 A man accused of having a sawn-off shotgun in his bin claimed he only discovered it when putting rubbish out.
Anthony McKee said the weapon was found the morning after he spotted three men arrive in a suspected stolen car at his home near west Belfast.
The 23-year-old, of Colin Close, Dunmurry, faces a charge of possessing a firearm in suspicious circumstances.
A High Court bail application was adjourned to allow more information on the accused's account to be gathered.
During a bail application prosecutors said police searching McKee's property on 18 January located the weapon after he told them: "It's in the bin."
The accused claimed the car parked at his house for a period the night before, with its number plate obscured.
Crown counsel Kate McKay said: "He would then say the following morning he went out, the car was gone, he went to put rubbish in the bin, opened it and discovered a sawn-off shotgun among the rubbish."
Concerns were raised over claims that McKee went out for the day rather than notify police immediately.
"He has indicated he did not know what to do," Mrs McKay added.
A defence barrister disputed claims that the accused gave a "scant" description of the alleged car.
He said McKee had provided details of the vehicle's make, model and colour.
Lord Chief Justice Sir Declan Morgan said the accused's account "seems to be a reasonably important part of the case".
"I would like to be absolutely clear about the circumstances," he said.