Woman rescued from blaze at house in Newry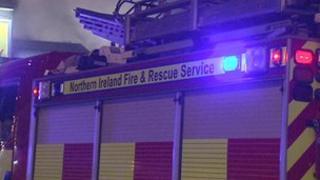 A woman in her 50s has been rescued from a house fire in County Down.
Firefighters were called to the property on Mary Street in Newry at about 19:15 GMT on Thursday.
Eugene McNally, the station commander with the fire service in the city, said the woman was found in a downstairs room by fire crew wearing breathing apparatus.
"She was very quickly brought out and treated for the effects of smoke inhalation at the scene," he said.
The woman was then taken to hospital.