Bank union criticises RBS chief Stephen Hester's £963,000 bonus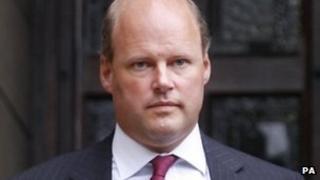 A £963,000 bonus in shares awarded to Royal Bank of Scotland boss Stephen Hester has come under attack from a union representing workers in one of Northern Ireland's main banks.
RBS, is 82%-owned by UK taxpayers, and is the parent company of Ulster Bank, which recently announced hundreds of job cuts in Ireland.
RBS said the bonus reflected Mr Hester's work "towards rebuilding RBS".
But IBOA The Finance Union said the bonus "added insult to injury".
In a statement on Friday, Larry Broderick from the union said it was an "excessively generous bonus payment", two weeks after the bank announced plans to make 950 staff redundant in Ireland.
"If the chief executive's performance was assessed according to the kind of criteria applied to our members in Ulster Bank, there is no way he would have been given this award," he said.
"These lavish rewards for the chief executive - which, we understand, may be accompanied by substantial bonuses for other top executives in RBS - are in sharp contrast to the bank's treatment of its Ulster Bank employees.
"(They) have been told that the bank does not intend to match the terms of its 2009 redundancy deal in the new restructuring programme it is now seeking to introduce in Ireland. "
The bonus has also provoked criticism from UK politicians.
The Labour leader, Ed Miliband, said the payout represented a "disgraceful failure of leadership by the Prime Minister".
Lib Dem minister Jeremy Browne said Mr Hester should turn down it down.
The Conservative Mayor of London, Boris Johnson, said: "It seems to me the government should step in and sort it out."
However, the body that overseas the government's stake in the bank, UK Financial Investments, said the bonus, which is on top of Mr Hester's £1.2m salary, "reflects the significant contribution he has made towards rebuilding RBS in 2011".
It added: "As the largest shareholder in RBS, we have worked closely with the board to ensure that pay is aligned with the interests of shareholders and properly rewards long-term performance. "
RBS has announced thousands of job cuts, although it recorded a £2bn profit in its most recent trading quarter, compared with a £1.6bn loss in the same period in 2010.
The BBC's Business Editor Robert Peston, said the government paid the bonus as there was a real risk that Mr Hester and the rest of the board would leave.
Deputy Prime Minister Nick Clegg has said ministers are "constrained" by contractual arrangements agreed by the last government at the time of Mr Hester's appointment regarding his bonus.
On Monday, Business Secretary Vince Cable announced a series of measures designed to rein in excessive executive pay.