IRA convictions against husband and wife to be quashed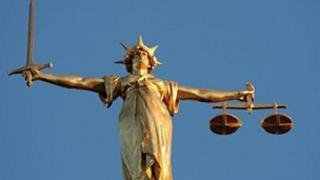 A husband and wife jailed for offences connected to the IRA interrogation and murder of a police informer appear set to have their convictions overturned.
James Martin and Veronica Ryan, from west Belfast, were both convicted of the false imprisonment of Joe Fenton.
Mr Fenton was a Special Branch agent shot dead after being lured to a house in the city in February 1989.
The Court of Appeal was told that the prosecution accepts the guilty verdicts against the couple should be quashed.
Mr Martin, who was also found guilty of making property available for terrorism, was later sentenced to four years imprisonment.
His wife, formerly known as Veronica Martin, was jailed for six months.
Similar false imprisonment counts against the couple over the abduction of another informer, Sandy Lynch, in 1990 were overturned three years ago.
Matter of time
In an unprecedented move, the Criminal Cases Review Commission decided to refer separate convictions relating to the Fenton incident back to the Court of Appeal.
The body, set up to examine potential miscarriages of justice, refused to disclose the reasons for its decision.
But in court on Friday senior counsel for the prosecution confirmed its new position.
Gerry Simpson QC said: "The prosecution accepts that the convictions of these appellants should be quashed."
One reason given was that all relevant material was not made available to the Director of Public Prosecutions, preventing him from properly considering whether Mr Martin and Ms Ryan should have faced charges.
Mr Simpson added: "The fact that such material was withheld from the director during the proceedings prevented the director from discharging the prosecution's duty of disclosure, which had the capacity to affect the continuation or outcome of the proceedings."
Although the court has not yet formally quashed the convictions, legal sources said the announcement by the prosecution meant it was only a matter of time.
A further hearing next month is expected to deal with any further disclosure being sought in the case.
Outside court Mr Martin and Ms Ryan's solicitor, Kevin Winters, said they must now be given a full explanation.
"We welcome this second such decision. It is unprecedented that two separate cases like this stand to be dismissed on the same basis," he said.
"The appellants are now entitled to know the reasons why they were subjected to what we say was a contrived prosecution."
Mr Winters also vowed to press ahead with further proceedings, including compensation claims, following Friday's developments.