Sean Quinn's eastern European empire in Belfast High Court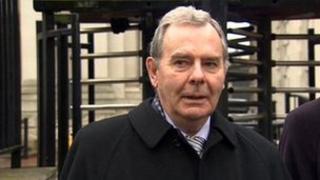 Sean Quinn will face another significant court date in March at a hearing into his eastern European business empire.
Belfast High Court has set aside two days for the case, which involves ventures in Russia and Ukraine.
Mr Quinn, once Ireland's richest man, was made bankrupt in the Republic earlier this month.
He was stripped of control of his manufacturing and insurance empire last April over alleged £2bn debts.
Declaring the trial would receive priority treatment, Mr Justice McCloskey also extended injunctions against any disposal of the property.
The prohibitions, obtained on behalf of the former Anglo Irish Bank, relate to up to four companies believed to be major creditors of businesses, including a Kiev shopping centre.
Two of them, Demesne Investments and Innishmore Consultancy, have registered offices in County Fermanagh.
The others are Lyndhurst Development Trading, which is based in the British Virgin Islands, and Galfis Overseas in Belize.
Mr Justice McCloskey was told that an appeal is imminent in the Belize courts against the appointment of a receiver in Galfis.
It was also disclosed that contempt proceedings are to be issued against parties including Lyndhurst.
Mark Horner QC, for Anglo, which is now renamed the Irish Bank Resolution Corporation (IBRC), did not give any further details.
The declaration came after IBRC successfully annulled the 65-year-old Fermanagh businessman's bankruptcy status in Northern Ireland.
A share receiver was appointed to Quinn Finance Holdings, which holds a number of property investments for the family.
The injunctions were obtained on behalf of the newly controlled Quinn Finance.
They prevent the creditor companies from bringing any action over loan agreements associated with the properties in Ukraine and Russia.
Prohibitions have also been placed on demanding payment or seeking to enforce the agreements, along with any attempt to discharge or pay out money in connection with them.
The injunctions, which further compel the defendants to retain and hold any money paid out to them, are expected to remain in force until the new case in Belfast is resolved.
Fixing it for two days in March, Mr Justice McCloskey said: "This case is receiving priority listing. I won't be vacating these dates."