Attitudes within prison service are halting change, says report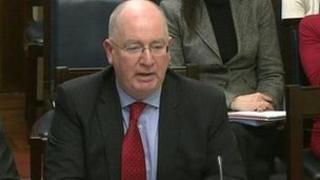 Future improvements in the treatment of vulnerable prisoners are unlikely unless attitudes of some members of the Northern Ireland Prison Service change, a report has found.
However, the report says some steps have been taken to change the service's treatment of vulnerable prisoners.
This is the conclusion of a report by the Criminal Justice Inspection (CJI).
Its report follows another published in December 2009, after an inspection prompted concerns over prisoner safety.
That previous report also came six months after a Prisoner Ombudsman's report into the death of Colin Bell.
The 34-year-old, who was serving a life sentence for murder at HMP Maghaberry, hanged himself.
Deficiencies
He had been on suicide watch and was meant to be monitored every 15 minutes.
Dr Michael Maguire, chief inspector of the CJI, said steps had been taken to address deficiencies identified in previous reports.
"The provision of dedicated resources to the management of vulnerable prisoners and the opening of the Donard Centre at Maghaberry Prison are welcome developments," he said.
However, Dr Maguire said improvements in healthcare provision across the prison estate, particularly in Hydebank Wood Young Offenders Centre and Maghaberry Prison, were needed.
Dr Maguire added progress was being undermined by the attitudes and behaviours of some staff, which he claimed was "inconsistent with a therapeutic approach to prisoners in their care".
"That's why we fully endorse the prison service's Strategic Efficiency and Effectiveness (SEE) programme aimed at changing the culture and skills of its staff," he said.
The Northern Ireland Prison Service (NIPS) welcomed the publication of the report.
Director General Colin McConnell said: "Providing safe, decent and secure custody for all those placed in our care is a primary objective for the Northern Ireland Prison Service.
"Prisons are complex environments and many people admitted to our care have severe personality disorders.
"Putting in place regimes and support services for those individuals, as well as for other prisoners who will at some stage during their time in custody present themselves as vulnerable, is a huge challenge for the NIPS."
He said that the prison service was engaged in reform which would introduce new staffing arrangements centred on engagement with prisoners.
Justice Minister David Ford also welcomed the publication of the report and the steps that the NIPS had taken to improve care for the most vulnerable prisoners.