Derry wins bid to host the All-Ireland Fleadh in 2013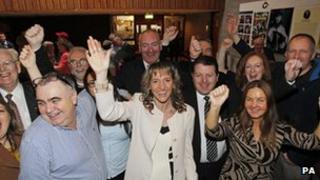 The headquarters of the traditional music body, Comhaltas, are nestled in a quiet and mainly residential square in Monkstown, south County Dublin.
The intermittent and anxious huddles of people outside the building on Saturday morning was the only indication that something significant was taking place inside.
On the second floor, 30 members of the central executive of Comhaltas had gathered to vote on next year's host venue for the All-Ireland Fleadh.
In the basement downstairs, delegates from Sligo, Ennis and Derry were waiting for the result to come through.
"It's been a long and drawn out campaign" said Eileen Ni Doherty, chair of Comhaltas' Derry City branch.
"Part of the campaign was difficult and unnecessary but we've remained confident and overcome all the obstacles along the way and we're here at the final stage of the bid."
Two hours later the result of the central executive's secret ballot was announced by Labhras O Murchu, director general of Comhaltas.
Disappointment for Sligo but delight for Derry.
Ennis, it emerged had withdrawn their bid for what they described as "the greater good".
"I think I was in a state of shock when it was announced," said Eileen Ni Doherty.
"I'm sure it was the same for everyone bidding for it - the anticipation - but it was such a sense of relief I was delighted."
Martina Anderson, Sinn Fein MLA for Foyle, said the winning bid was also a revenue boost.
"There's an opportunity for £40m to come into the local economy, as well as 300,000 national and international visitors which will enable us to market Derry and the north west," she said.
The historic consequence of the decision was not lost on Labhras O Murchu.
"The fleadh has never gone north of the border yet the people of the north have played a very significant role in promoting the cultural traditions of Ireland," he said.
"In a way this is a thank you to those people. It is also an opportunity for us to show that we embrace the diverse traditions on this island and we hope that will be the premier focus."