Several hundred people mark Bloody Sunday anniversary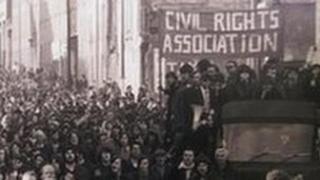 Several hundred people have attended a memorial service to mark the 40th anniversary of Bloody Sunday.
Thirteen people died when British soldiers opened fire on civil rights marchers in Londonderry in 1972.
In 2010 the Saville report found the killings had been "unjustified and unjustifiable" and Prime Minister David Cameron made a formal apology.
The service was attended by families of most of the victims.
Some families are holding a march along the original route of the civil rights demonstration as part of their campaign for the soldiers involved to be prosecuted.