Teenager refused bail over south Belfast hijack attempt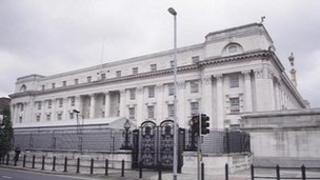 An alleged teenage carjacker must remain in custody due to the risk of any further crimes being committed, a High Court judge has ruled.
Gavin Wilson was refused bail over an attempt to take a car in south Belfast on 16 January.
It was claimed he got into it near the Lisburn Road, ordered a woman out, then tried to drive off when she refused.
The car was brought to a halt by the handbrake being pulled. The woman was then helped by members of the public.
During a struggle a hooded top was pulled from the man who had attempted to steal the vehicle.
DNA evidence from the seized garment led to charges being brought against 19-year-old Mr Wilson, of Crumlin Road, north Belfast.
He is accused of hijacking, driving while disqualified and without insurance, and breaching an anti-social behaviour order by causing distress.
Mr Wilson denies the charges, with his barrister arguing that the case against him was weak.
'Dressed differently'
Declan Quinn questioned why a planned identification process was called off.
He also pointed out that only a mixed DNA profile was obtained from a forensic examination of the hooded top.
According to the defence, CCTV evidence from the day of the carjacking shows Mr Wilson dressed differently to what the assailant was said to have worn.
The accused claims to have been at a relative's house, the court heard.
However, his application for bail was denied on the ground of potential re-offending.
Mr Justice Treacy ruled there were no suitable conditions which would enable Mr Wilson to be released.